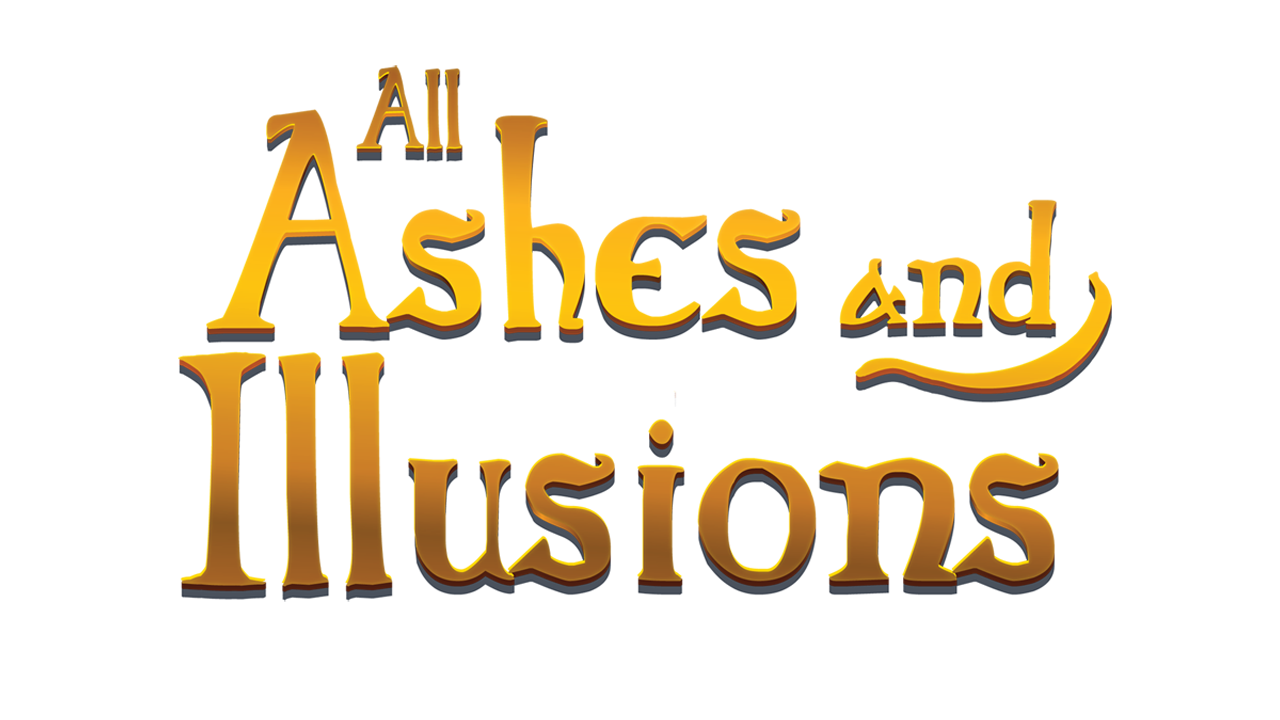 All Ashes and Illusions
A downloadable game for Windows and Linux
Please Note: This story contains content some readers may find upsetting, such as depictions of violence, sex scenes with dubious/no consent, coarse language, and a lot of casual misogyny. It also depicts an unhealthy relationship with a large (20+ years) age gap. People who find such content upsetting might wish to avoid reading this title.


"Women are snakes and liars, all of them: the more beautiful, the more conniving. Don't let your guard down, or they will ruin you."

Yuel was only six years old when he witnessed his mother being put to death, for the heinous crime of daring to have an affair. For other women, such a folly mightn't have been so lethal, but for Yuel's ill-fated mother – the wife and queen of Indra's tyrannical king, Khalil – it spelt her doom.

As he witnesses his mother's corpse decomposing beneath the intense sunlight, Yuel's father offers him some sage words of wisdom: namely, not to trust women. They are, in Khalil's words, wicked and deceitful, and becoming too attached can end in nothing save disaster.

Outwardly, Yuel must swallow his sorrow, for fear of earning his father's ire. Kings are not, after all, supposed to cry; even future kings such as him. In private, however, Yuel turns to his nursemaid, the kindly Safiya, for succour. Safiya is Yuel's only ally in the palace: his father cold and distant; the servants deferential, brow-beaten, and kept silent through fear. Without Safiya, Yuel would be all alone...

Yet she, too, abandons him, when Yuel grows old enough to no longer need a nursemaid to tend to him.

Bereft and embittered, Yuel has nothing to look forward to, until – after a prolonged illness – his father eventually dies, and Yuel inherits the throne and the crown in his stead.

No longer a young boy – Safiya's 'little prince' – but a grown man, Yuel plots to win Safiya over once more. Unable to forget about her, and unable to trust any other woman, Yuel cannot conceive of a life without her. She did promise to stay with him, after all – and, single-minded to a fault, Yuel is determined to see this promise fulfilled at any cost.


About 90,000 words of text (approx 4-6 hours of reading)

A kinetic story with no choices/branches

Detailed background and character art

A custom soundtrack

A highly dysfunctional relationship

Free patch that adds uncensored r18 content

Russian and German translations
Complete and utter agony ❤︎


The adult patch for the Steam version of the game can be downloaded here for free.
If you want to patch the all ages version of the game, download this file, drop it into the 'game' folder inside All Ashes and Illusions, and rewrite the existing adult.rpa file with the new one. You'll know if the game has been patched correctly because the window title will change to All Ashes and Illusions (18+).


Writing/programming: ebi-hime
Sprite/CG art: Julioalqae
Extra art: Renmiou
Background art: Fuyunokawa, Foxeleos
UI: Sasquatchii
Music: yuzuki
Opening video: Phinalgo
Russian translation: UsagiToxic
German translation: Saryana
Purchase
In order to download this game you must purchase it at or above the minimum price of $12.99 USD. Your purchase comes with a Steam key. You will get access to the following files:
AshesandIllusions-1.01-adult.zip
445 MB
AshesandIllusions-1.01-allages.zip
403 MB
Comments
Log in with itch.io to leave a comment.
Entirely fucked up but only in the most beautiful and tragic way. Excellent writing with fascinating characters.
Ahh, more relentless misery, I take it? Interesting premise, but I can't help but think I can't handle this particular brand of bad vibes.

It is a pretty grim story, indeed!

This story does have some of my favourite characters I've written to date (I think they're all pretty interesting; especially the main character), but I can imagine some people finding the content upsetting. It might be best to give it a miss if you think it will bother you.
Haha, well, I appreciate the warning.
Unfortunately though, I think I'm skipping this one. While I do like my themes dark and stories serious, I'm not very fond of walking away depressed or anxious, and yandere are, uhh... kinda spooky to me.
Okay, really spooky.