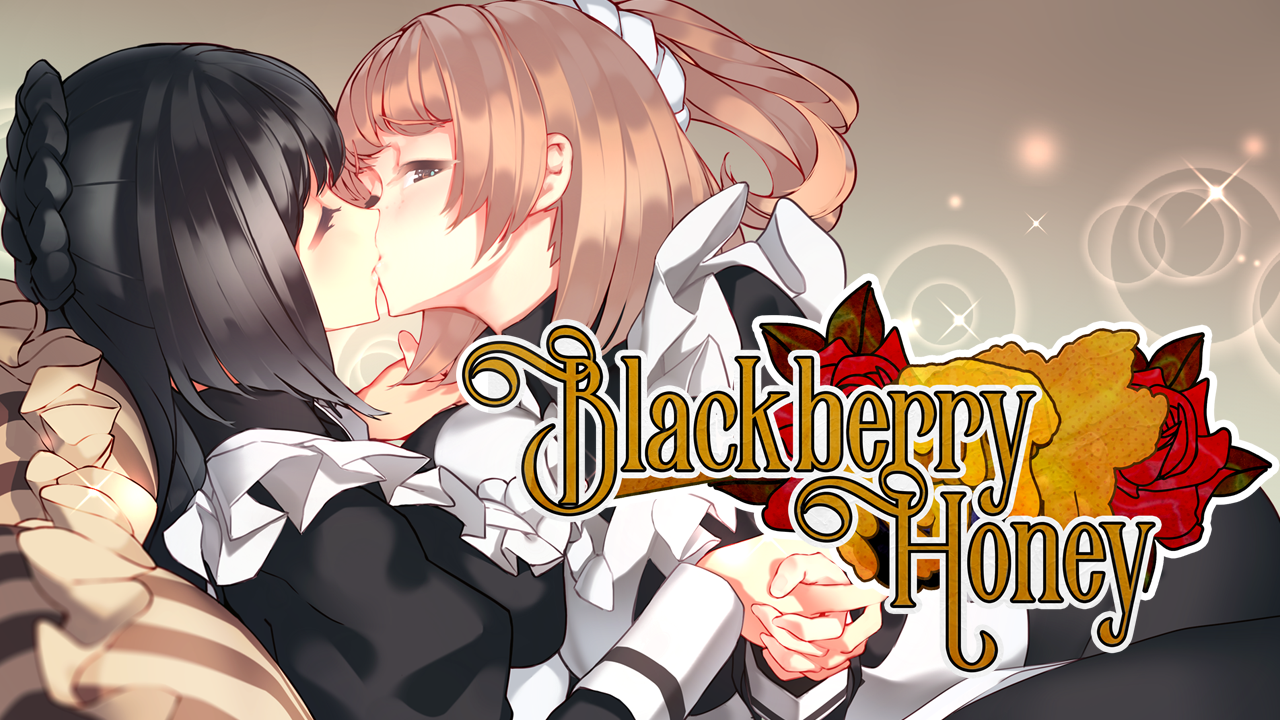 Blackberry Honey
A downloadable game for Windows and Linux

Set in England during the mid-19th century, Blackberry Honey is a tale about maids, music, and unexpected romance.

The story begins when our heroine, Lorina Waugh, is fired from her previous position as a maid in the stately home of Hartwell. With a large family back in Liverpool to support and a string of unsavoury comments circulating about her rather sudden dismissal, Lorina's search for a new place of employment leads her to Bly.

Forced to work for fourteen hours a day, with little chance to rest, Lorina is bullied by the senior maids and, most embarrassingly of all, by the twelve-year-old daughter of the Lennard family, Lady Constance.

One of the only maids who deigns to speak to Lorina is the mysterious Taohua – but Lorina wishes she wouldn't. Despite her lowly status, Taohua has her own private bedroom, never goes to church with the rest of the servants, and rarely interacts with anybody. Her aloof, almost cat-like personality, coupled with her peculiar complexion, eyes, and name, have inspired more than a few rumours around the Shropshire countryside that she might be a witch.

Lorina knows she should keep her distance from Taohua, and she wants to most desperately… but maybe there's a pinch of truth to all the rumours, because she soon finds herself under the older woman's spell.



100k words of text
Around 7-10 hours of reading
A cute lesbian love story
A kinetic storyline with no choices/branches
Detailed backgrounds and CGs
1080p display
An original soundtrack with 18 unique pieces
Very long, frilly dresses
Victorian maids(!!!)
An option to download either the all ages or 18+ version through itch.io.
Available in English, German, Simplified Chinese, Russian, and Japanese

The uncensored adult patch can be downloaded for free here and the censored patch (for the Japanese translation) can be downloaded here.
If you want to patch the all ages version of the game, download this file, drop it into the 'game' folder inside Blackberry Honey, and rewrite the existing adult.rpa file with the new one. You'll know if the game has been patched correctly because the window title will change to Blackberry Honey (18+).
Please note: the uncensored 18+ patch is not compatible with the Japanese language version of the game.
Purchase
In order to download this game you must purchase it at or above the minimum price of $12.99 USD. Your purchase comes with a Steam key. You will get access to the following files:
BlackberryHoney-1.0-allages.zip
682 MB
BlackberryHoney-1.0-adult_uncensored.zip
718 MB
BlackberryHoney-1.0-adult_censored.zip
722 MB
Comments
Log in with itch.io to leave a comment.
who did the art if you don't mind me asking?
The main artist is Oxykoma, but afaik they haven't posted anything online in years.
Hello,
I'd love to get into the game as well but I keep getting this. Any idea of what I'm doing wrong?

Maybe something in this thread will help?
https://lemmasoft.renai.us/forums/viewtopic.php?t=44557
The issue might be that you've put the game in a folder called "save 'em", and the apostrophe is interfering with the game launching. That, or it could be related to your antivirus software.
Hey,
I re-downloaded the files needing to be extracted to a normal folder with no special characters in the name. I don't have anti virus software on this PC, so thats not stopping me. What am I supposed to be doing after extraction to get the game to play? I'm using Windows OS 10.
this is so so unique and underrated, thank you for your work
I've just run into this game a few days ago on my search.

Bought the game, and downloaded it... but I can't seem to play the game somehow. (Noted that I'm running the game on a Mac, and I've cleared through the "running the application from an unidentified developer" thingy.)
Every time I click onto the game, it never showed up, and there appeared to not be any sort of notification about the application not being able to run.
Just a problem I've been trying to figure out a little while now.
There's a chance it might be your antivirus software flagging it as a virus and not letting the game launch. You can check out whatever antivirus software you use and set the game to an exception and see if that works.
If not, please send me a message at ebihimes@gmail.com.
bit defender is picking half the files up as malicious. when I looked it up, it seems it does not like whatever software the game runs on. It deletes so many files the game shows as uninstalled in the itch.io app. Is identified as "atc4.detection"
Antivirus software often flag indie games as having malware/viruses because they haven't been downloaded many times and so are considered untrustworthy. The VN itself is perfectly fine. The best thing to do would be to mark the game as an exception in your antivirus program so you can play it. If you don't want to do that then e-mail me privately at ebihimes@gmail.com so we can sort something out.
i got this through denpa, theres an error, during the scene where taohua and lori are making love after lori has gotten constance's doll out of the rain, i get an IO error"Couldn't find file 'tao naked/Tao_nude_b_expr2-copy.png'". the patch from this site does not help

The error has been fixed. Don't try and patch the adult scene with the new adult.rpa because the game won't recognise the file has been changed - you need to download the adult version on Denpasoft again. Sorry for causing you problems!
sorry, but its still not working. i re-downloaded from denpasoft, and that didnt fix it. then i downloaded the free dlc patch from denpasoft, and followed their instructions to install it, and that still didnt work.

You need to delete the old folder of the game first. Don't download a new version and then overwrite the old files with the new ones - that has the same effect as downloading the new adult patch and trying to paste it on top (it won't work). Make sure all your game files are deleted before you download the new version, so your computer doesn't prompt you to overwrite files when you extract the update.
i've tried doing this, but the error persists. the only thing i didnt delete before reinstalling were my save files, because i didnt know where their located

You can try looking for your persistent data in this folder:
Eromeidos-1467738994
which will be on your PC somewhere.
There should be a file in here called 'persistent'. Delete it, then try and see if the scene works.

Really liking it so far. not really a light novel fan but im enjoying myself nonetheless. sweet character, nice art style, and very pleasing music.